411: Multiple Celebrities Arrested In DC, Meghan Markle Re-Enters Hollywood
Joaquin Pheonix, Martin Short & Susan Surandon Arrested
Add 'em to the list—Joaquin Pheonix, Martin Sheen & Susan Surandon are just the latest celebrities to get arrested in DC as part of Jane Fonda's climate change protests
Pheonix gave an impromptu speech urging the crowd to at least change their "eating habits" for the cause, before marching with protesters and eventually landing in handcuffs
Jane Fonda says the rally was last one in Washington DC "for a while"
Megxit Update
Queen Elizabeth has called an emergency meeting between herself, Harry & Meghan, Prince Charles & Prince William, to discuss Harry and Meghan's plan to step away from the royal family—the meeting is planned for later today
Harry's brother Prince William admits to The Sunday Times of London that the possible "Megxit" has made him emotional. He says, "I've put my arm around my brother all our lives and I can't do that anymore…I'm sad about that."
William added that he'd like to see things work out. "All we can do, and all I can do, is try and support them and hope that the time comes when we're all singing from the same page. I want everyone to play on the team."
This comes amid news that Meghan took a voice-acting gig with Disney with any earnings benefiting a conservation charity
According to TMZ, Harry pitched the idea to Disney CEO Bob Iger at the Lion King premiere in London. The royals had said they plan to become financially independent.
TV News
Dwayne Johnson will star in a sitcom about his childhood. NBC has ordered 11 episodes of The Young Rock, which will chronicle the actor's "formative years." (Variety)
Jimmy Fallon will host That's My Jam, a primetime event series inspired by his Tonight Show segment. Variety says the hour-long series will premiere out of the Tokyo Olympics.
CBS has given a series commitment to Clarice, a sequel TV series to Silence of the Lambs. (Yahoo! Entertainment)
SyFy has picked up a Chucky television series, based on the Child's Play horror franchise. (SlashFilm)
NBC has renewed Days of Our Lives for a 56th season
Maryland Politicians Make Friendly Bet With TN Counterparts
Looks like Governor Hogan & Mayor Young will have to make good on their bet they made with their Tennessee counterparts over the ravens/Titans game this weekend
Unfortunately the Ravens lost which means Gov. Hogan will have to put up the crab cakes he bet TN Gov. Bill Lee, while Mayor Young will have to fork over a bushel of crabs from Faidley's Seafood on the line, along with two dozen crab cakes from Jimmy's Famous Seafood and a case of Duckpin Pale Ale from Union Craft Brewing
Should the Ravens have won, Nashville hot chicken was on the line as well as Nashville-made candy, cookies, cupcakes and home and body products
(Photo credit: Getty Images)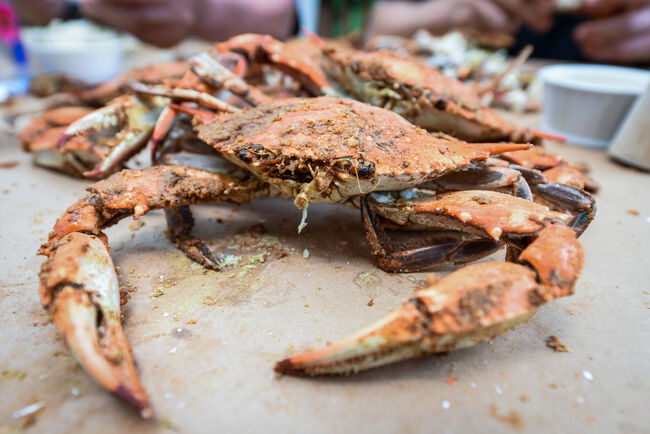 Awards News
The Oscar nominations will be announced later this morning (8:18am 1/13/2020) while Amy Poehler & Tina Fey will return to host the 2021 Golden Globes
The comedy duo hosted once before in 2015, and it looks like the HFPA is just repeating hosts they've had success with with (i.e. Ricky Gervais just hosted for the 5th time…)