411: Star Wars Script Leaked Online, DWTS Finale Recap!
Star Wars Script Leaked on Ebay
This Christmas, the Star Wars saga concludes with The Rise of Skywalker.
The final script to the highly anticipated movie leaked on eBay. However, Disney got the script back before the plot was exposed.
Director J.J. Abrams said, (quote) "One of our actors, I won't say which one — I want to, but I won't — left it under their bed. The script was found by someone who was cleaning their place. We got it back before it was sold." (Good Morning America)
Security over The Rise of Skywalker plot and ending has been outrageous. Actor Mark Hamill said only a few were given the final script pages. Other actors got the pages that just had their lines. Even Hamill couldn't take the script home to memorize lines. Producers forced him to read his pages in a locked room. (The Wrap)
Dancing With The Stars Recap
It all came down to 4 couples last night on the finale of DWTS, Lauren Alaina & Gleb, pop star Ally Brooke & Sasha, actor Kel Mitchell & Whitney and bachelorette Hannah Brown & Alan
All the couples started out by reviving a dance they've already done from earlier in the season and then moved onto a freestyle number for their final dance
Lauren & Gleb went full country, dancing to "Country Girl (Shake It For Me)" by Luke Bryan, and in the middle of the performance, Lauren took the mic and showed off her vocal chops before jumping right back into the choreography!
Each couple earned a 30/30 for their freestyle, and then it was time to crown a winner
Fourth place went to Lauren and Gleb, third place to Ally and Sasha, second to Kel and Witney. Taking home the Mirror Ball trophy was… Hannah Brown and Alan Bersten!
Justin Timberlake & Jessica Biel Have an Infidelity Clause in Their Prenup
Justin Timberlake sparked infidelity rumors when he was seen holding hands with his costar in New Orleans, and it looks like if he is cheating, it'll cost him
Apparently he & wife Jessica Biel have a pretty ironclad infidelity clause in their prenup which requires him to pay $500,000 should he cheat on Jess
While the couple hasn't made any official statements just yet, an insider says they're trying to move past it
"They are downplaying everything and trying to laugh it off as nothing. But it was definitely inappropriate and something that would make any wife uncomfortable," a source shared with E! News. "He had too much to drink and got carried away."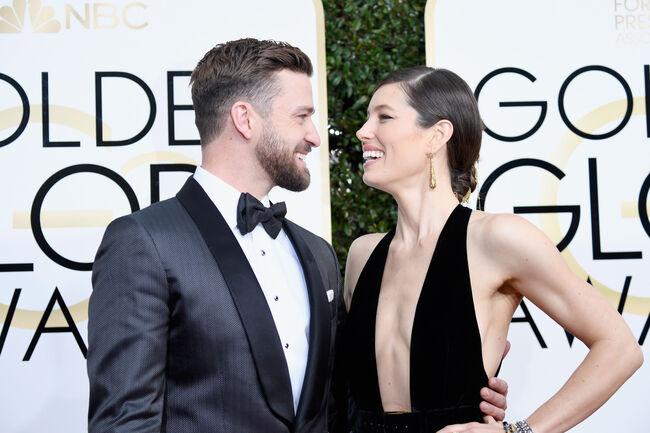 Hoda Kotb Announces Surprise Engagement
Hoda Kotb's longtime boyfriend Joel Schiffman put a ring on it! The "Today" co-host has announced that she just got engaged
Her BF popped the question while they were on their "usual vacation" in Mexico. She was totally "shocked" when he got down on one knee after dinner... and they're still trying to figure out how to tell their little ones. 
Her ring is reportedly worth half a million dollars!