411: Here's Who Is Banned From The Ellen DeGeneres Show
Who Is Banned From The Ellen DeGeneres Show & Why
Ellen has been in the spotlight for defending her friendship with former President George W. Bush, saying she is friends with lots of people who have different views than she does—drawing criticism from both sides
Well now there's a list of people who are banned from her show, and all of them seem to be banned for the same thing, rude comments about gay people or disagreeing with gay marriage—Caitlyn Jenner, Vince Vaughn, Kathy Griffin & Sherri Shepherd Jennifer Aniston Breaks Guinness World Record
Jennifer Aniston break the internet when she joined Instagram the other day, but it turns out she also broke a Guinness World Record
She amassed 1 million followers in just 5 hours and 16 minutes, nabbing the title for fastest time to do so.
The previous record holders: Prince Harry and Duchess Meghan, whose joint @sussexroyal account racked up a million followers in five hours and 45 minutes
AND….At this year's E! People's Choice Awards, the actress will become the second-ever recipient of the People's Icon Award! The awards happen on November 10th!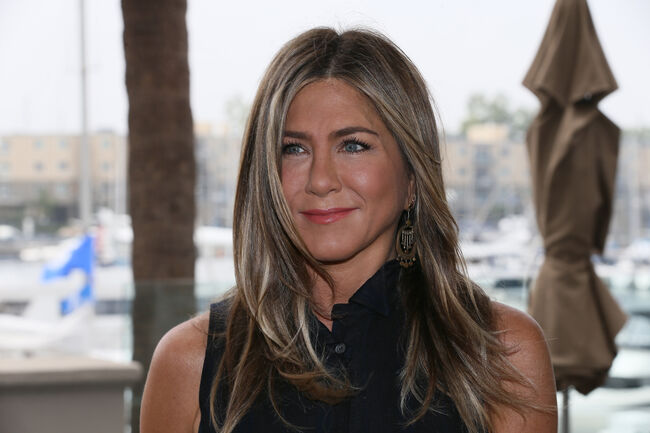 If You See Blue Pumpkins This Halloween, This Is What It Means
We've all seen, or owned, those hard plastic, orange pumpkin buckets as kids you trick or treated with at some point, but parents want you to be aware of blue ones you may see this Halloween
A blue bucket signifies a child with autism, and one mom's viral Facebook post helped spread the word
She has a 3 year old non verbal child & wrote "This year we will be trying the blue bucket to signify he has autism. Please allow him (or any other person with a blue bucket) to enjoy this day and don't worry I'll still say 'trick or treat' for him," she wrote. "This holiday is hard enough without any added stress. Thank you in advance."
Like I said before, the post went viral and other parents are adopting this technique for this year as well Star Power For Sesame Street's 50th Anniversary
The children's show's historic season will kick off with an HBO primetime special on November 9th (it will then air on PBS Nov. 17th)
Joseph Gordon Levitt will host with appearances by Patti LaBelle, Elvis Costello, Meghan Trainor, Norah Jones, and Nile Rodgers, along with Whoopi Goldberg, Sterling K. Brown, and almost every human cast member from the show's history
The 50th season will then premiere on HBO November 16th, with Charlie Puth, Maren Morris, Dave Grohl, Chrissy Teigen, Michael Che, Misty Copeland and Olympic athlete Chloe Kim all confirmed for the new season
Mrs. Doubtfire Heading To Broadway
Robin Williams 1993 comedy is getting the musical treatment
Broadway star Rob McClure will take over the role made famous by the late Robin Williams, while Jenn Gambatese will inhabit Sally Field's part
The Broadway version of Mrs. Doubtfire will follow the film's plot and debut next April