411: Howard Stern Re-Proposes To Wife on Kimmel, Drew Barrymore Talk Show
Howard Stern Re-Proposes To Wife Live on Kimmel
Who knew Howard Stern was such a romantic?
He was on Jimmy Kimmel the other night & explained he loves proposing to his wife, and he will propose and ask her to re-marry him all the time and she always says no because she thinks it's jinxed to get married again
So he's telling this story of how she always turns him down, and then invites her up on stage to re-propose again, she reluctantly obliges, and finally says yes, and the two share a sweet peck
Fast forward to about 8:45 to see the entire exchange!
Drew Barrymore Lands Daytime Talk Show
The actress will launch her own syndicated daytime talk show in the fall of 2020. She says, "It is beyond my wildest dreams to have this opportunity for a daily talk show. I'm truly thrilled and honored to be creating this show with CBS."
The show was picked up less than two months after she shot its pilot, according to Deadline.
CBS exec Peter Dunn called it the "brightest prospect I have seen in many years."
Dolly Parton Wants These A List Actresses To Play Her In A Biopic
Parton tells Elle magazine that she's considered both Reese Witherspoon and Scarlett Johansson as actresses who could portray her in a biopic, but says, "That depends on when I get it done."
Parton does not offer a timeline, nor any details as to whether she might actually be working toward producing a movie about her own life, but she has certainly turned her attention more and more toward television and films in recent years.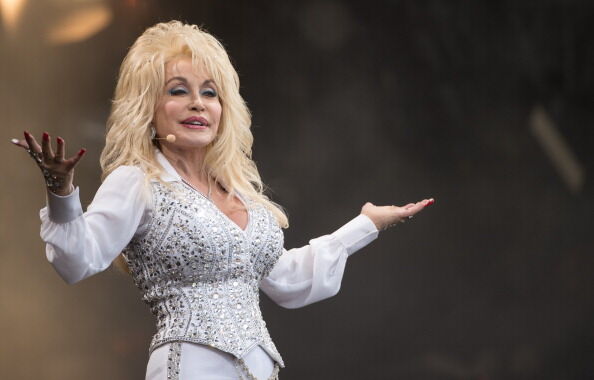 Kevin Hart Accident: Drive At Fault
The California Highway Patrol blames driver Jared Black for that nasty car crash that seriously injured Kevin Hart.
Law enforcement sources tell TMZ that "Kevin's 1970 Plymouth Barracuda crashed because driver Jared Black gunned the engine and lost control. The car had incredible power with a 720-HP engine. We're told the sudden acceleration and loss of control caused the vehicle to go into a spin and it ended up crashing through a fence and into an embankment."
The insiders say the muscle car did not have any mechanical issues and that the accident was purely driver error.
According to the CHP's report, none of the three people in the car were wearing seat belts.
But Kevin, who suffered three spinal fractures, is standing by his pal. Through his lawyer, the star tells TMZ, "I have nothing but love for Jared and wish him and Rebecca [the other passenger] a speedy recovery." JoBros Beer Collaboration
The rekindled boy band has teamed up with Coors Light to create their very own limited-edition beer. 
Kevin, Nick and Joe took a break from their Happiness Begins Tour to visit a brewery in Denver, Colorado to help develop their own unique flavor. The limited-edition six-packs of Coors Light will feature the their faces on the iconic mountains on the bottle.