#411: Don't Try To Kiss Kelly Clarkson, Brad Paisley Gets ABC Special
Don't Try To Kiss Kelly Clarkson When You Meet Her
Here's a public service announcement from Kelly Clarkson: if you're ever lucky enough to get the chance to meet her, don't even think about leaning in for a smooch, or even a peck on the cheek.
"Spread the word. I don't like being kissed on my face when U meet me. Ever. Male or female, I ain't European y'all. I didn't grow up doing that. I don't like it. I don't know where Ur mouth has been but I know where it's not gonna end up, & that's anywhere on my face," The "Voice" coach and newly minted talk show host writes on Twitter.
She added, "#MyPSAfortheDay."
Brad Paisley Gets His Own ABC Special
"Brad Paisley Thinks He's Special" will be an hour long variety special, which, according to the network, will feature a "combination of Paisley's signature humor, unexpected surprises, heartfelt field pieces and rousing musical performances." 
The special, airing later this season, will feature guest appearances by Kelsea Ballerini, Hootie & The Blowfish, Tim McGraw, Darius Rucker, Carrie Underwood, Jonas Brothers and more.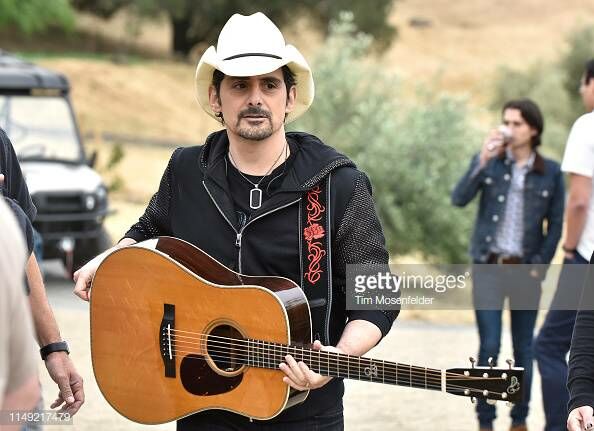 Christie Brinkley Proves She Isn't Faking Arm Injury
Wendy Williams accused Christie Brinkley of "faking" the injury that forced her out of Dancing With the Stars. Now the supermodel has provided proof
Christie went on The Talk yesterday to address Wendy's comments
Christie said she was stunned when Wendy, who she considered a friend, started the rumor. And to prove her wrong, the star pulled out an X-ray of her arm, which showed a severe break.
The 65-year-old said Wendy should try to be kinder. "I say it to all the people — it can't feel good to try and hurt other people. If it feels good, something is seriously wrong. Love more – especially now."
Loretta Lynn Was 'So Tickled' Metallica Covered Her Song
When Metallica played Nashville for the first time in a decade back in January, it added a country twist to its set with a cover of Loretta Lynn's "You're Looking at Country."
It turns out that not only was the 87-year-old "tickled" by the band's rendition, but she was there to witness it in person.
According to guitarist Kirk Hammett, "the next day, got a message from Loretta Lynn, who said she was actually at the show with her family and was so tickled when we broke into her song! She said that, you know, she might think about covering one of our songs sometime, but in the meantime we should do more of her songs."