#411: DWTS Recap, Seinfeld To Netflix, Taylor Swift Joins The Voice
Dancing With The Stars Recap
It was opening night for DWTS Season 28 and for those hoping to see Christie Brinkley, they were sorely disappointed-- the supermodel reportedly shattered her arm during rehearsals and had to be replaced by her daughter Sailor-- she was paired up with Valentin Chmerkovskiy, bringing enough energy to the Fox Trot to earn a score of 18
Lauren Alaina got to Cha-Cha to some Shania Twain with her pro partner Gleb Savchenko—the couple came in 3rd for the night with a 19
Former Raven Ray Lewis danced the salsa with his pro, Cheryl Burke and dispite some nice comments from the judges, the pair only scored a 15
The evening closed out with the highest-scoring duo, "Dawson's Creek" star James Van Der Beek and his pro Emma Slater. They did the tango and scored the highest of the evening with a 21
Here's the current rankings from last night:
21: James Van Der Beek
20: Hannah Brown
19: Lauren Alaina
18: Sailor Brinkley-Cook
17: Karamo
16: Ally Brooke, Kel Mitchell
15: Ray Lewis, Kate Flannery
12: Sean Spicer
11: Lamar Odom
Seinfeld Headed For Netflix
Looks like the streaming service, which recently lost The Office and Friends, is replacing the fan favorites with another classic sitcom, Seinfeld
All 180 episodes of Seinfeld will be available on Netflix starting in 2021
Taylor Swift Returns To "The Voice"
The pop star will be a "Mega Mentor," which will have her offering advice to all the teams ahead of the knockout rounds
This won't be Taylor's first visit to "The Voice," she served as a mentor during season seven, and also performed on last season's finale
Season 17 of "The Voice" debuts Monday
Dog The Bounty Hunter Suffers Heart Attack?
Dog The Bounty Hunter has been hospitalized after some kind of heart emergency 
TMZ reports that the star is waiting to find out if he needs surgery after what sources are saying might have been a heart attack or something similar
Could it be issues from a broken heart? Only time will tell, but the reality star just lost his wife Beth Chapman back in June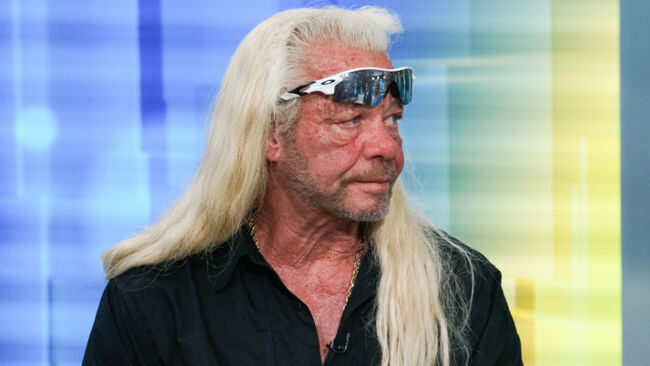 Masked Singer Season 2 Characters & Clues Revealed
It's almost time for the second season of Fox's hit celebrity singing competition, "The Masked Singer." This time, the stars will be disguised as the Skeleton, Fox, Ice Cream, Eagle, Tree, Flamingo, Butterfly, Penguin, Leopard, Egg, Rottweiler, Flower, Thingamajig, Panda and Black Widow
Now, fans are getting the first clues about the celebs behind the masks.Here they are:

Skeleton:"I've got a bone to pick with any contestant who thinks they're going to win this competition." The clue also includes the number "4261," which some fans think is a hint atChristopher Meloni'sbirthday: April 2nd, 1961.
Fox:"This superhero is ready to devour the competition."Could it be an Avenger?
Ice Cream:"I may be sweet, but I'm here to lick the competition and ice cream float to the finale. … I'm made of sugar and dairy, and I live for half of February."
Eagle:"If you know an eagle's body temperature, you may be hot on my tail."
Tree:"Security makes me feel like precious cargo."
Flamingo:"I love this mask as much as I love mascara."
Butterfly:"I'm flying high and ready to shake up the competition. … Are you ready to feel the Butterfly Effect?"
Penguin:"I'm bringing the heat, every time you think you're getting warmer, I promise, you're actually getting colder."Could it beVanilla Ice?
Leopard:"The security here reminds me of the secret service. I should know, I've been spotted with the president."Could it beOmarosa Manigault Newman?
Egg:"I belong on this stage more than I belong with bacon. As my mom always told me, life has an expiration date so always work hard for the first and last vowels of the alphabet. … I'm pro team."
Rottweiler:"My bark is just as big as my bite. I'm a total perfectionist and I'm gonna be working my tail off to earn your puppy love."Could it beBow Wow?
Flower:"I blossom in every field I plant myself in," the flower said. "When I take this beautiful mask off, you will be blown away."Could it be Blossom herself,Mayim Bialik?
Thingamajig:"Don't call me Chewbacca but we do celebrate together."
Panda:"[My bamboo is sweet], especially the way I prepare it."
Black Widow:"I'm here to crawl my way to the top and spin a web around the competition. You can guess my identity all you want, but I'm going to leave you hanging by a thread until the very end."
"The Masked Singer" premieres on Wednesday, September 25th at 8pm