#The411: The Oscar Nominations Are Here! The Oscar Nominations Are Here!
The Favourite & Roma lead the pack with 10 nominations a piece
A Star Is Born & Vice are right behind with 8, Black Panther with 7, BlackKklasman with 6, and Bohemian Rhapsody & Green Book with 5 each
Spike Lee scored his first ever best directing Oscar nomination for BlackKklasman, while Bradley Cooper was snubbed in that category for A Star Is Born
It's the first Best Picture nomination for Netflix thanks to Roma, and Black Panther is the first superhero movie to nab a Best Picture nod as well
Best Picture:
"Black Panther"
"BlacKkKlansman"
"Bohemian Rhapsody"
"The Favourite"
"Green Book"
"Roma"
"A Star Is Born"
"Vice"
Best Actor:
Christian Bale, "Vice"
Bradley Cooper, "A Star Is Born"
Willem Dafoe, "At Eternity's Gate"
Rami Malek, "Bohemian Rhapsody"
Viggo Mortensen, "Green Book"
Best Actress:
Yalitza Aparicio, "Roma"
Glenn Close, "The Wife"
Olivia Colman, "The Favourite"
Lady Gaga, "A Star Is Born"
Melissa McCarthy, "Can You Ever Forgive Me?"
Check out the full list of nominations here! Spotify's New Feature
Spotify has just added a "block this artist" feature finally allowing you to block artists you can't stand
To use the block feature, go to the artists' page on the Spotify app, click the 3 little dots in the upper right hand corner, a drop down menu will appear and just click don't play this artist
The artists will be blocked from everything however they could still appear if they're featured on another artists' track
Bebe Rexha Claims No Designer Will Dress Her Because She's "Too Big"
Bebe Rexha has gone on the offensive, calling out Hollywood designers for not wanting to dress her because she's "too big"
Rexha is up for Best new Artists at the Grammy's this year but claims in her Instagram video that her team reached out to a bunch of designers who all refused to dress her
Luckily, after posting her rant to social media, several designers have come forward saying they'd love to dress the singer
For the record, this isn't new, Megan Mullally from Will & Grace posted that she'll be buying her dress off the rack despite HOSTING the SAG Awards and definitely being on camera—Leslie Jones from SNL also voiced the same frustrations when she couldn't find anyone to dress her for the Ghostbusters premiere (in the end Christian Siriano stepped up to the plate)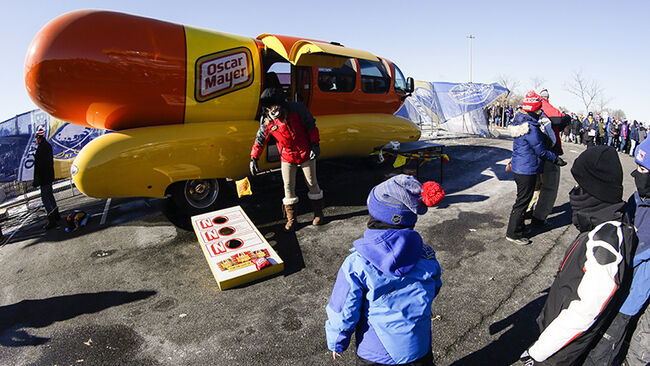 The Weinermobile Is Hiring!
The Kraft Heinz-owned company recently announced that it will be taking applications for its next fleet of Wienermobile "hotdoggers" – aka drivers – through the end of the month
"We are currently accepting resumes through January 31st for a one-year position beginning in June," reads an announcement posted online
Not only will you have to drive the weinermobile, you'll be tasked with acting as their own traveling public relations firm, organizing promotions and pitching TV, radio and print media
Applicants should also have a BA or BS, "preferably in public relations, journalism, communications, advertising or marketing." Bilinguality is said to be a plus, as well