A Look Back At The Biggest Stories Of 2018!
Marriages, break ups, babies and more, check out our year in entertainment!
1. All The Weddings!
From Priyanka Chopra & Nick Jonas, to Harry & Meghan, what a year for tying the knot! The royal couple tied the knot back in May at the Windsor Castle with a star studded guest list which included Oprah Winfrey, Victoria and David Beckham, George and Amal Clooney and Serena Williams. Most memorably, Prince Charles walking Meghan Markle down the aisle after her father suffered a heart attack and couldn't (and all the drama that followed), Prince Harry mouthing, "You look amazing. I'm so lucky" when Meghan reached the altar. Oh, AND HER DRESS!
Earlier this month Nick Jonas & Priyanka Chopra also tied the knot in one of the most elaborate multi ceremonies we've seen in awhile. They couple had a traditional Indian wedding with all the fixins' plus a traditional Christian ceremony as well. These two moved fast, first hitting the scene together at the 2017 Met Gala and revealing an engagement in July of 2018 and then finally getting married this December.
2. Royal Babies!
Prince William and Princess Kate Middleton welcomed their third child, Louis into the royal family earlier this year! His technical fancy title is His Royal Highness Prince Louis of Cambridge.
Prince William and Princess Kate's kids are expecting a new cousin as well with the news of Prince Harry & Meghan Markle's impending bundle of joy!
3. The #MeToo Movement Continues
Several high profile take downs happened in 2018 providing justice for numerous women who fell victim to sexual misconduct. Disgraced comedian Bill Cosby was sentenced to 3-10 years in prison after he was convicted of sexual assaulting Andrea Constand in his home in 2004.
The biggest offender of all, former Hollywood producer Harvey Weinstein finally turned himself in to police back in May to face criminal charges brought forth by the Manhattan District Attorney. Dozens and dozens of women have accused Weinstein of everything from sexual harassment to rape.
Furthermore, head honcho Les Moonves was ousted from CBS due to sexual misconduct allegations. CBS' internal investigation just concluded and revealed he will not receive his $120 million dollar severance because he was fired "with cause." 4. Roseanne's Tweet
It was the tweet heard 'round the world that resulted in the cancellation of Roseanne Barr's newly rebooted TV show "Roseanne."
Roseanne eventually took the tweet down, which drew comparisons between former Obama advisor Valerie Jarrett and "Planet of the Apes." She apologized saying, "I am truly sorry for making a bad joke about her politics and her looks," she wrote in the tweet. "I should have known better. Forgive me -- my joke was in bad taste."
She also blamed the entire ordeal on ambien, but eventually relinquished all control so the cast & crew could still have jobs with a spin off, "The Conners." 5. Movie History Is Made!
Marvel's "Black Panther" along with "Crazy Rich Asians" were both history making movies this last year. Marvel's "Black Panther" earned more than $1.3 million globally at the box office and is the first movie from the Marvel Universe to be nominated for an Academy Award. It was also nominated for 12 Critic's Choice Awards, 3 Golden Globe Awards, and more!
"Crazy Rich Asians" also broke the box office raking in $173 million domestically and earning a Golden Globe nomination for the film's star, Constance Wu, the first Asian women in more than 44 years to be nominated for Best Actress.
6. The Splits
2018 was splitsville for a lot of our favorite couples, Cardi B and Offset, Paris Hilton and Chris Zylka, Bachelor alum Kaitlyn Bristowe and Shawn Booth, WWE stars Nikki Bella and John Cena, the list goes on and on.
Jennifer Aniston & Justin Theroux also called it quits after 2 years of marriage, and most notably, Ariana Grande & Pete Davidson called off their engagement. They were together all of 4 months or something. She then released a song called, "thank u, next" about all her exes!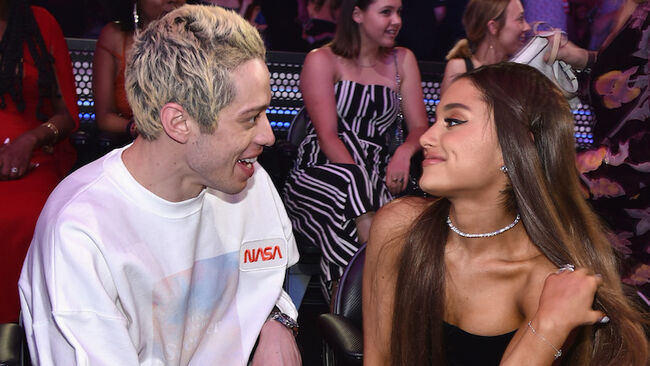 7. Everyone We Lost
2018 was another tough year when it came to losing the greats. We lost the Queen of Soul Aretha Franklin to complications from cancer, while the godfather of the Marvel Universe, Stan Lee, passed away earlier this year at the age of 95.
Mental illness also claimed the lives of fashion designer Kate Spade & food critic Anthony Bourdain, both committing suicide.
Others the entertainment world lost this year include rapper Mac Miller, Burt Reynolds, Dolores O'Riordan, Reg E. Cathey, R. Lee Ermey, Avicii and Margot Kidder.