Vanessa Trump Files For Divorce From Donald Trump Jr.
After 13 years of marriage Vanessa Trump and Donald Trump Jr. are calling it quits. Vanessa filed for divorce yesterday and according to inside sources they've already reached an agreement internally. Apparently the divorce was a long time coming and they had been at odds for years. The story goes when Jr. found out he was actually relieved. The couple have 5 children all under 10.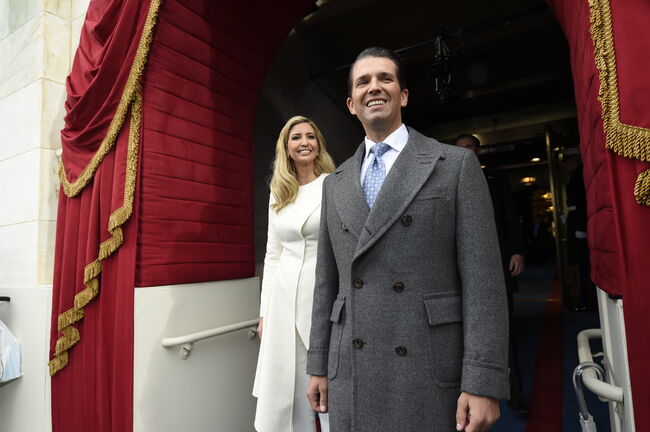 Matt Damon Isn't Moving To Australia
Reports surfaced yesterday that actor Matt Damon is so fed up with Trump that he's moving hsi entire family to Australia. Well it looks like that may not be the case. A report out of Australia is claiming he is in the process of buying property very close to his "Thor: Ragnarok" costar Chris Hemsworth in Byron Bay, New South Wales, Australia, plus he's already been explaining to friends and family he's off to the land down under. However his publicist is squashing these rumors, "Matt has visited Australia several times recently, but he has not bought a house there nor is he moving there." Josh Duhamel Supports Fergie Despite National Anthem Performance & Divorce
Fergie performed the National Anthem at the NBA All Star game a few weeks back and decided to try some weird jazz version that literally couldn't have gone any worse. The internet lit her up and her estranged/soon to be ex husband Josh Duhamel was seen bringing her flowers the day after it happened. Well now he's commenting on the whole ordeal speaking with Dan Patrick saying, "I've seen the girl sing it several times. She crushes the song, so I was surprised to see that she tried what she did…I just felt bad for her, there's an army of trolls out there that are just ready to pounce, and they are not nice. And for that I feel bad, but she's a really tough girl." Rihanna Claps Back At Snapchat
Snapchat isn't doing well and in the wake of their shares plummeting after Kylie Jenner said she didn't use it anymore, the picture and video sharing app made a huge social faux paw after an ad for a new app called Would You Rather asked users if they would rather slap Rihanna or punch Chris Brown. Of course this particular scenario was met with major backlash and Rihanna herself denouncing the app because she and ex boyfriend Chris Brown were embroiled in a domestic violence incident a few years back. Snapchat is doing major damage control, they've pulled the ad and currently they're apologizing to the public and Rihanna herself who sin't buying it.