The 411: House of Cards Back In Production
House of Cards Back In Production With New Faces
Still semi reeling from Kevin Spacey's scandal, Netflix's House of Cards is getting back on its feet, resuming production as of yesterday for its final season and adding two new faces, Diane Lane and Greg Kinnear. We have no other information other than the two seasoned actors will play siblings and we're still waiting on a premiere date for the final season. Katy Perry's "Left Shark" Speaks Out
Remember when Katy Perry performed at the Superbowl halftime show in 2015 with a bunch of weird animated animals? Well the guy behind Left Shark who became an instant sensation due to his bad dancing is finally speaking out. Bryan Gaw is his name and he explained to NPR it was essentially supposed to be that way, "So there's a set choreography. There's also what's called freestyle choreography, or, like, you get to move around or play your character as a dancer. I'm in a 7-foot blue shark costume. There's no cool in that. So what's the other option? Well, I'm gonna play a different character."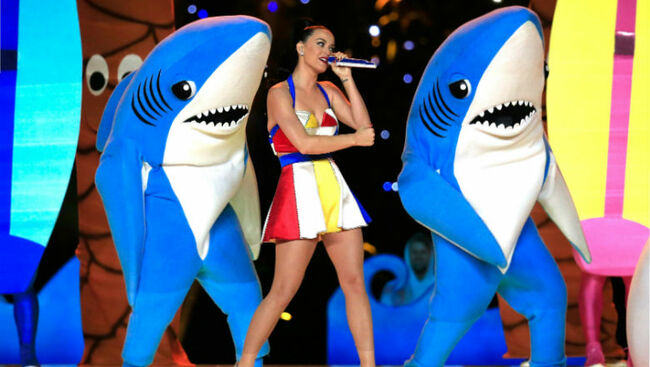 Taylor Swift's Groping DJ Got A New Job & They Received A Bomb Threat
David Mueller, the radio DJ accused of groping Taylor Swift during a meet and greet a few years ago now has a new gig. Mueller was fired from his morning host gig in Denver, CO once the civil suit began but now he's back in the hot seat, doing mornings at a radio station in Mississippi under the name "Stonewall Jackson." Taylor Swift fans went crazy once they found out and someone took it too far allegedly emailing a bomb threat to the station. The threat is now under federal investigation and it looks like the station is fed up with the backlash.
Chrissy Teigen Kneels For Beyonce
My life goal is to be adopted by Chrissy Teigen but until then, I can just fan girl over her every move. On the Tonight Show with Jimmy Fallon Chrissy explained how she literally knelt for Beyonce at the Grammy's last Sunday.